Understanding the 4 C's
TO DEFINE ANY GEM WE NEED TO HAVE CERTAIN STANDARDS ON THE BASIS OF WHICH THEY CAN BE JUDGED. FOR DIAMONDS THE STANDARDS ARE 4 C'S ITS COLOR, CLARITY, CUT AND CARAT. BEFORE PURCHASING YOUR UNIQUE DIAMOND, WE ARE HERE TO GIVE YOU BASIC INFORMATION ABOUT THE SAME. 
Diamond Anatomy
The structural features of every diamond make them exclusive. Before buying any diamond, it is necessary to understand it's structure, proportion, dispersion and scintillation. All the above information is pictographically shown below: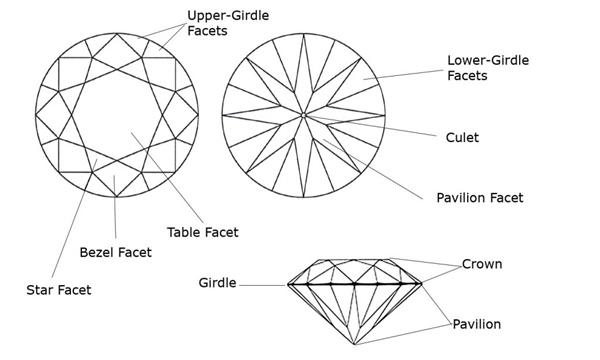 Cut
Diamond Cut is a very technical term. It has various aspects as to percentage of diameter to depth, angles, intersections, etc. These factors determine the look of your Diamond. They have a range of cuts for diamonds from Princess cut to oval and Marquise. As we can not judge a book by it's cover, the cut does not define your Diamond's purity. But, The cut of a diamond can be the most difficult aspect to choose. An ideal cut diamond is a round, brilliant, or princess cut diamond that is cut to ideal proportions and angles and has excellent polish and symmetry ratings. Hearts and Arrows diamonds are precision-cut round diamonds. Because of their exact angles and symmetry, they show a hearts-and-arrows pattern when viewed through a special tool. Arrows are visible from the top of the diamond, and Hearts are visible when the diamond is face-down. The cut can also affect the color because its shape me obstruct it from reflecting light.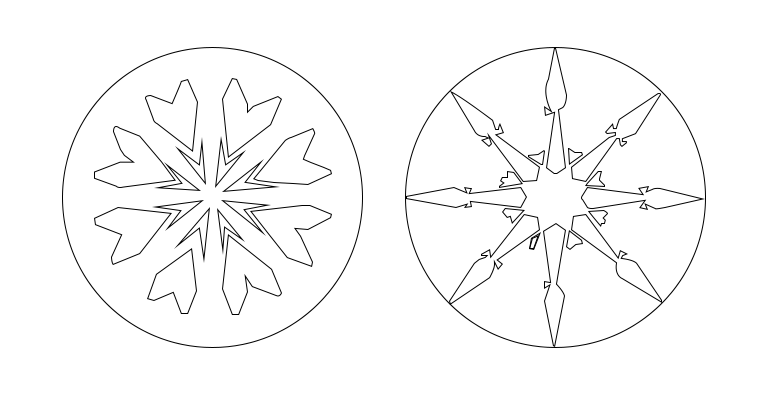 Clarity
Clarity of Diamonds are divided into two parts, impurities internally known as inclusions and the ones external called as blemishes. They are an assessment of small impurities present on the surface. Inclusions and blemishes are naturally present in a diamond. These do not affect the overall look of the Diamond and aren't even visible to naked eyes. There are only 1% of diamonds in the world that are of Flawless (FL) clarity, it being the highest in the range.This can be the least important feature while selecting a Diamond. 
Diamond Clarity Descriptions
IF : Internally Flawless has no inclusion but has a few tiny blemishes, mostly caused while polishing.
VVS1 : Very Very Slightly Included 1 has very few tiny inclusions at the bottom half of the diamond.
VVS2 : Very Very Slightly Included 2 has similar sized inclusions as VVS1 but the positioning is upper half.
VS1 : Very Slightly Included 1 look flawless to the naked eye but contains flaws a little more in number or size to VVS1&2.
VS2 : Very Slightly Included 2 may contain a few black carbon crystals but those aren't to a naked eye either.
SI1 : Slightly Included 1 has flaws possibly visible to a human eye. 
SI2 : Slightly Included 2 may also be visible to a person looking at a diamond deeply.
I1 : Included 1 has blemishes and inclusions comparatively larger in size due to which they are easily visible.
I2 : Included 2 are so poor in quality that most shops don't even sell them.
I3 : Included 3 are the ones with visible flaws due to cracks and smudges.




Colour
Colour of Diamond is one of the most important aspects we must check before choosing our diamond. The most colourless Diamond is the best quality. Colour in Diamonds is a result of impurities present in them. More noticable the colour (yellower to be specific) the lower its quality and hence the price. Colour can intensely affect its price. While the yellowness and transparency can lower or increase the price respectively, the hue like pink, blue and red (being the most expensive) can increase its price considerably.
Diamond Color Descriptions
D : Absolutely colorless, these are the most loved among the consumer.
E : They can not really be differentiated from D but do have an extremely little tint of white in it. 
F : These must be paired with white gold or platinum because the yellow will kill the look of its colorlessness. 
G : The scale has really a very slight difference between each range.hence, G is considered similar to F and H. 
H : From here the real tint of white starts off. Even though a person not knowledgeable about diamonds might not see the difference.
I : These are half in price then D and aren't really noticeable colorful.
J : They are the most preferred between D to J because they don't look yellow and offer great price. 
K : Here begin the yellow tint and are easily noticeable by a naked eye. They can be paired with gold the best.
L : These are the perfect value of money if you want to add your diamond to gold
M-Z : These have a very clear yellow/ brown tint and might look a little dull compared to others.



Carat (Size)
Ironically, the size of a Diamond do not define the weight of it. It is necessary to consider both cut and weight to decide the size. A high carat diamond with a poor cut can make it look smaller than the low cut diamond with an ideal cut. There are two major things we take into consideration while determining carat. One being the Diamond's top diameter measured in millimeters and the other being Diamond's cut grade, because the better the cut the more light reflects from it that makes it look bigger.